DIRECTOR'S MESSAGE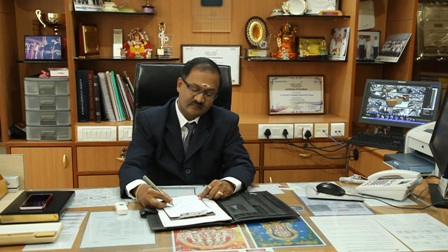 Sri Manakula Vinayagar Engineering College located in the midst of 36 villages is having a conducive environment for the students to concentrate in their studies. The Administration is taking every care to maintain peace in the campus.
The College is having teams of dedicated faculty members in each department who are fully qualified. Under the guidance of dynamic administration, these teams work round the clock to produce quality engineers who are more fitting to the E-world of today. For each department, value added courses are chosen and training is provided to the students which enhances their employability in the competent job market. Here, the students are not only trained to excel in academic but attempts are also made to shape them as good citizens of this great Nation. The students are trained to observe discipline in every aspect of their life and top most priority is attached to this aspect.
This college is considered as one of the best engineering institution in the Union Territory of Puducherry. The parents, particularly the parents of the girl students whole heartedly choose this institution for pursuing higher studies as they have faith in us that their daughters will be treated with dignity. I am also proud to state that around 45% of the faculty members are women and 43% of the students are girls. The placement wing of this institution works round the clock and with their tireless effort the college was able to place more than 80% of the students during the academic year 2013-14 so far.
The institution is accredited by NAAC with 'A' Grade in the year 2013. Ours is the first engineering institution in the Union Territory of Puducherry which has got the NAAC accreditation.Right from the first batch, the students of this institution have bagged the gold medals and top ranks of the Pondicherry University. Each department is having state of Art equipments and fully furnished labs. Well equipped Library is also available. Separate hostel facilities are available forboys and girls with gym. I welcome all the students to utilize these facilities available at this institution for their academic growth.