The Department trains the students in all aspects of the course.In the first year of course the students are trained to develop their communication skills.Later they are offered with training to gain their confidence and skills. During the pre-final year,coaching for GATE, GMAT, GRE and other entrance examinations are provided.
The Training and Placement Committee organizes various activities such as industrial visits, guest lecturers from industrialists, mock interviews, industry–academia interface, pre-placement talks and workshops etc.which give ample opportunities to the industry as well as the students to interact with each other.
The Training and Placement Committee focuses on following activities and events
Contact and approaches the recruiting companies regularly for on- campus placement.
Conducting Campus Recruitments
Arranging Guest Lectures to invite various Resource Persons from Industry to deliver recent trend in technology to students and faculty.
Arranging Industrial visits, In Plant Training and Industry Projects to impart practical knowledge and industry practices.
Conducting Career Awareness Programmes by Industry Professionals
Organizing Soft Skill Programmes by Industry Experts
Co-ordinating Mock Group Discussion and Interview by HR Professionals
Conducting Seminars, workshops and conferences by eminent Professional
Soft Skills Training by Infosys Work Senses, Masila Acadamy etc
Personality Development workshop
A comprehensive training programme on Aptitude Related Placement Assessments by SMART, INNOVATIVE, FACE Resources
Resume Writing Skills
Workshop by Alumni
Communication Skills by Business English Certification(BEC)
Motivation Programme
Other Triple I (Industry-Institute Interaction) activities that develop knowledge and skills of students and faculty.
Technical and Aptitude Training
Android Workshop by Mobiwiz Technology, Chennai
Cloud Computing Training, CSS Chennai
Online Aptitude test for campus interview preparation
Soft Skills Training by Blue Lotus
IBM DB2, Bangalore
NAC Tech Training by SMART
AMCAT Training by SMART
SharePoint Server Training, Hexaware, Chennai
Placement Record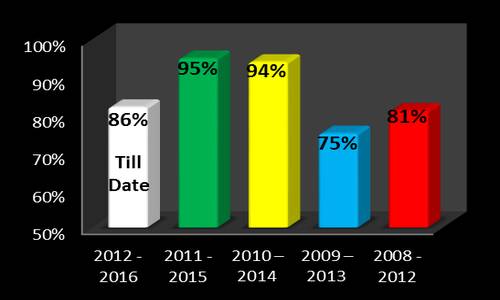 INTERNSHIP DETAILS
Sl.No.
Name of the student
Batch
Year
INTERNSHIP OFFERED BY THE COMPANY
Outcome
1
ASHWINI.M
2014-2018
2017
IIT MADRAS
Completed
2
VIGNESH.P
2014-2018
2017
BSNL
Completed
3
ARIHARAN.V
2014-2018
2017
BSNL
Completed
4
RADHIKA.R
2014-2018
2017
BSNL
Completed
5
BETTINA O'BRIEN
2014-2018
2017
BSNL
Completed
6
JAMES MARTIN.C
2013-2017
2016
TCS
Completed
Batch
Eligible Student
Placed Students
Placement
2012 – 2016
157
128
76%(as on date)
2011 – 2015
127
121
95%
2010 – 2014
96
90
94%
2009 – 2013
63
47
75%
2008 – 2012
67
54
81%
2007 – 2011
57
50
88%
Batch : 2013- 2017
| | | | | |
| --- | --- | --- | --- | --- |
| Sl.No. | Photo | Name of the student | Company Name | Package |
| 1 | | Rohith.K | ZOHO | Rs. 4,60,000 |
| 2 | | Yoga Raj.S | Volante Technologies | Rs. 4,00,000 |
| 3 | | Aravind.K.R | Aspire Systems | Rs. 4,00,000 |
| 4 | | Deepa.C | Logic Hearts | Rs. 3,50,000 |
| 5 | | Pavithra.D | Logic Hearts | Rs. 3,50,000 |
| 6 | | Kaavyaa.G | Logic Hearts | Rs. 3,50,000 |
| 7 | | Kaviya.D | Logic Hearts | Rs. 3,50,000 |
| 8 | | Lavanya.S | Suriya Infomatics | Rs. 3,50,000 |
| 9 | | Nishanthini.P | Suriya Infomatics | Rs. 3,50,000 |
| 10 | | Shanmughapriya.M | TCS | Rs. 3,36,000 |
| 11 | | Ushanandhini K | TCS | Rs. 3,36,000 |
| 12 | | Mumtaj Begum.j | TCS | Rs. 3,36,000 |
| 13 | | Dhivya.P | TCS | Rs. 3,36,000 |
| 14 | | Aravind.K.R | TCS | Rs. 3,36,000 |
| 15 | | Archiot Anil | TCS | Rs. 3,36,000 |
| 16 | | preethi s | TCS | Rs. 3,36,000 |
| 17 | | Pavithra.G | TCS | Rs. 3,36,000 |
| 18 | | Aswini.V | TCS | Rs. 3,36,000 |
| 19 | | Asha.k | TCS | Rs. 3,36,000 |
| 20 | | Karpagavalli.J | TCS | Rs. 3,36,000 |
| 21 | | Kavipriya.M | TCS | Rs. 3,36,000 |
| 22 | | Subamangalam.R | TCS | Rs. 3,36,000 |
| 23 | | Rajalakshmi.S | TCS | Rs. 3,36,000 |
| 24 | | Asha.S | TCS | Rs. 3,36,000 |
| 25 | | Subashini.S | TCS | Rs. 3,36,000 |
| 26 | | Yuvarani.S | TCS | Rs. 3,36,000 |
| 27 | | Jeevitha.S | TCS | Rs. 3,36,000 |
| 28 | | Gayathri | TCS | Rs. 3,36,000 |
| 29 | | Sushmitha.M | TCS | Rs. 3,36,000 |
| 30 | | Abirami.P | TCS | Rs. 3,36,000 |
| 31 | | Harika.P | TCS | Rs. 3,36,000 |
| 32 | | Kayathiri.A | TCS | Rs. 3,36,000 |
| 33 | | James Martin.C | TCS | Rs. 3,36,000 |
| 34 | | Jothy.P | TCS | Rs. 3,36,000 |
| 35 | | Sugandhan.R | TCS | Rs. 3,36,000 |
| 36 | | Susithra.A | TCS | Rs. 3,36,000 |
| 37 | | Madhumathi.G | TCS | Rs. 3,36,000 |
| 38 | | Soniya.D | TCS | Rs. 3,36,000 |
| 39 | | Deepak.S | TCS | Rs. 3,36,000 |
| 40 | | Deepak Divy Victorien | TCS | Rs. 3,36,000 |
| 41 | | Sevvel.M | TCS | Rs. 3,36,000 |
| 42 | | Monica.K | TCS | Rs. 3,36,000 |
| 43 | | Karthika.V.R | TCS | Rs. 3,36,000 |
| 44 | | Sharmilla.M | TCS | Rs. 3,36,000 |
| 45 | | Jegannathan | TCS | Rs. 3,36,000 |
| 46 | | Aishwarya.V | TCS | Rs. 3,36,000 |
| 47 | | Kavitha.K | TCS | Rs. 3,36,000 |
| 48 | | Naveen Balaji.S | TCS | Rs. 3,36,000 |
| 49 | | Keertanaa.E | TCS | Rs. 3,36,000 |
| 50 | | KARTHICK.R | Tech Mahindra | Rs. 3,28,000 |
| 51 | | MINNAL OLI.D | Tech Mahindra | Rs. 3,28,000 |
| 52 | | SHANMUGAPRIYA.K | Tech Mahindra | Rs. 3,28,000 |
| 53 | | C.Priyadharshini | Tech Mahindra | Rs. 3,28,000 |
| 54 | | ANGELIN CHRISTINA.E | Tech Mahindra | Rs. 3,28,000 |
| 55 | | Aravind.B | Tech Mahindra | Rs. 3,28,000 |
| 56 | | Trishanka.M | L&T | Rs. 3,20,000 |
| 57 | | Kavya.C | Virtusa Polaris | Rs. 3,30,000 |
| 58 | | Sreemathi Rajendran | Virtusa Polaris | Rs. 3,30,000 |
| 59 | | Nirosha.B | Boston | Rs. 3,20,000 |
| 60 | | Hyacintha maris.M | Boston | Rs. 3,20,000 |
| 61 | | Jayapriya.P | Boston | Rs. 3,20,000 |
| 62 | | Nivedha.A | Boston | Rs. 3,20,000 |
| 63 | | Nivedha.G | Boston | Rs. 3,20,000 |
| 64 | | Parthiban.S | Boston | Rs. 3,20,000 |
| 65 | | Santhya.M | Boston | Rs. 3,20,000 |
| 66 | | Suganya.G | Boston | Rs. 3,20,000 |
| 67 | | Bharathram.H | Boston | Rs. 3,20,000 |
| 68 | | Pragash.M | OFS | Rs. 3,00,000 |
| 69 | | Balaguru.S | Mobius Software | Rs. 3,00,000 |
| 70 | | Pragash.M | Mobius Software | Rs. 3,00,000 |
| 71 | | Lavanya.S | Excelencia | Rs. 2,75,000 |
| 72 | | Archana Kumari Sharma | Excelencia | Rs. 2,75,000 |
| 73 | | Lavanya.N | Sutherland | Rs. 2,20,000 |
| 74 | | Hemamalini.T | Sutherland | Rs. 2,20,000 |
| 75 | | Josephine Sylvia.D | Sutherland | Rs. 2,20,000 |
| 76 | | Santhiya.S | Sutherland | Rs. 2,20,000 |
| 77 | | Yazhini.D | Sutherland | Rs. 2,20,000 |
| 78 | | Vidhya Xavier | Sutherland | Rs. 2,20,000 |
| 79 | | Pragash.M | Sutherland | Rs. 2,20,000 |
| 80 | | Hariharasudan.T | Sutherland | Rs. 2,20,000 |
| 81 | | Vigneshwaran.S | Sutherland | Rs. 2,20,000 |
| 82 | | Manikandan.G | Sutherland | Rs. 2,20,000 |
| 83 | | Vinothini.R | Sutherland | Rs. 2,20,000 |
| 84 | | Pavithra.D | Sutherland | Rs. 2,20,000 |
| 85 | | Kaavya.G | Sutherland | Rs. 2,20,000 |
| 86 | | Jayasri.V | Sutherland | Rs. 2,20,000 |
| 87 | | Dhivya.H | Sutherland | Rs. 2,20,000 |
| 88 | | Letchumi Devi Gandhi | Sutherland | Rs. 2,20,000 |
| 89 | | Sangeetha.M | Sutherland | Rs. 2,20,000 |
| 90 | | Balaguru.S | Sutherland | Rs. 2,20,000 |
| 91 | | Vincent.S | Sutherland | Rs. 2,20,000 |
| 92 | | Faizal Ahamed.B | Sutherland | Rs. 2,20,000 |
| 93 | | Kaviya.D | Sutherland | Rs. 2,20,000 |
| 94 | | Aishvaria.P | Sutherland | Rs. 2,20,000 |
| 95 | | Lavanya.S | Sutherland | Rs. 2,20,000 |
| 96 | | Sourav.R | Sutherland | Rs. 2,20,000 |
| 97 | | Baby Sheela | Sutherland | Rs. 2,20,000 |
| 98 | | Selvarasi | Sutherland | Rs. 2,20,000 |
| 99 | | Harinishree.M | Sutherland | Rs. 2,20,000 |
| 100 | | Selvarasi | Mobius KPO | Rs. 1,20,000 |
| 101 | | Manju S | Mobius KPO | Rs. 1,20,000 |
| 102 | | Sandhya S | Mobius KPO | Rs. 3,00,000 |
| 103 | | Nivedha I | Mobius KPO | Rs. 3,00,000 |
| 104 | | Shalini.S | Mobius KPO | Rs. 3,00,000 |
| 105 | | Nivedha.G | AON | Rs.2,88,000 |
| 106 | | Yazhini.D | CFS | Rs.4,50,000 |
| 107 | | Nirosha.B | CFS | Rs.4,50,000 |
| 108 | | Kavitha .T | CFS | Rs.4,50,000 |
| 109 | | Suganya.G | CFS | Rs.4,50,000 |
| 110 | | Sonali.B | CFS | Rs.4,50,000 |
| 111 | | Iyyappan.P | CFS | Rs.4,50,000 |
| 112 | | Roja.G | Infinity Software solutions | Rs.2,50,00 |
| 113 | | Aswini.V | Embed UR | Rs. 5,50,000 |
| 114 | | Sourav.R | FACE Academy | Rs. 2,50,000 |
| 115 | | Hyacintha maris.M | FACE Academy | Rs. 2,50,000 |
| 116 | | Balaguru.S | FACE Academy | Rs. 2,50,000 |
| 117 | | Bharathram.H | FACE Academy | Rs. 2,50,000 |
| 118 | | Yazhini.D | OPPO | Rs. 2,10,000 |
| 119 | | Josephine Sneka.S | OPPO | Rs. 2,10,000 |
| 120 | | Roja.G | True Tech | Rs. 2,10,000 |
Batch : 2012- 2016
| | | | |
| --- | --- | --- | --- |
| Sl.No. | Name of the student | Photo | Company Name |
| 1 | ARAVINDA SIVA.S | | TCS |
| 2 | BALAKUMARAN.N | | TCS |
| 3 | BRINDHA.D | | TCS |
| 4 | HARIHARAN.J | | TCS |
| 5 | LAKSHMI PRABHA.S | | TCS |
| 6 | PARAMESHWARI.M | | TCS |
| 7 | POOJA SURESH SOLANKI | | TCS |
| 8 | PRASANYA.D | | TCS |
| 9 | PRIYANKA.V | | TCS |
| 10 | RAGHAVI.R | | TCS |
| 11 | SHANTHI MATHI.R | | TCS |
| 12 | SHIKSHITA SURESH SOLANKI | | TCS |
| 13 | SOWMYA.K | | TCS |
| 14 | SRIDEVI.S | | TCS |
| 15 | USHA NANDHINI.A | | TCS |
| 16 | VIGNESH.U | | TCS |
| 17 | VIGNESHWARAN.V | | TCS |
| 18 | BHARANIDHARAN.R.S | | TCS |
| 19 | AMALIGLORYA.V | | TCS |
| 20 | BHARATH KUMAR.V | | TCS |
| 21 | BHUVANA LAKSHMI.G | | TCS |
| 22 | DEEPIKA.V | | TCS |
| 23 | DHIVYA.K | | TCS |
| 24 | HARIPRIYA.G | | TCS |
| 25 | JAGASREE @LALITHA.S | | TCS |
| 26 | JAIGANESH.V | | TCS |
| 27 | JANANII.P | | TCS |
| 28 | KANCHANA DEVI.P | | TCS |
| 29 | KAVYA.P | | TCS |
| 30 | KIRUBAKARAN.R | | TCS |
| 31 | KIRUTHIGHA.K | | TCS |
| 32 | MEENATCHI.S | | TCS |
| 33 | MIRUTHVEENA S. | | TCS |
| 34 | PARTHIBAN E. | | TCS |
| 35 | PAVITHRA S. | | TCS |
| 36 | REKHA S. | | TCS |
| 37 | SANDHIYA M. | | TCS |
| 38 | SHANMUGA PRIYA M | | TCS |
| 39 | THAMIZHSELVI P | | TCS |
| 40 | VINOTH KUMAR R | | TCS |
| 41 | VIMAL V | | TCS |
| 42 | YOGESWARAN B. | | TCS |
| 43 | ANUSHA.R | | TCS |
| 44 | ARCHANA.T | | TCS |
| 45 | CHARLIE MANGE.L | | TCS |
| 46 | DEEPARANJANI.G | | TCS |
| 47 | DHIVYA.G | | TCS |
| 48 | GOKUL PRIYA.P | | TCS |
| 49 | HARIS BABU.R | | TCS |
| 50 | HELINA SNEHA.J | | TCS |
| 51 | ILAKKIYA.I | | TCS |
| 52 | NIRANJANA R | | TCS |
| 53 | NISHANTHI B. | | TCS |
| 54 | PRAVEEN P | | TCS |
| 55 | PRAVEENA V | | TCS |
| 56 | PRIYADHARSHINI P | | TCS |
| 57 | PRIYANKA C | | TCS |
| 58 | RASIKHA S | | TCS |
| 59 | SANCHANA N | | TCS |
| 60 | SANGAVVI M | | TCS |
| 61 | SARANYA K | | TCS |
| 62 | SELVA VIDHYA LAKSHMI. S | | TCS |
| 63 | SHAKILA BANU A | | TCS |
| 64 | SIVARANJINI E | | TCS |
| 65 | SNEKHA R | | TCS |
| 66 | SWETHA J | | TCS |
| 67 | THAMIZHSELVI V | | TCS |
| 68 | VARATHARAJAN D | | TCS |
| 69 | VENKATESH V | | TCS |
| 70 | VIKNESHWAREN U | | TCS |
| 71 | VINOTHINI M | | TCS |
| 72 | SURIYA E. | | ZOHO |
| 73 | AARTHI G. | | TECH MAHINDRA |
| 74 | AKSHAYA.S | | TECH MAHINDRA |
| 75 | S.PRIYADARSHINI | | TECH MAHINDRA |
| 76 | MONISHA.S | | TECH MAHINDRA |
| 77 | G.NITHILA | | TECH MAHINDRA |
| 78 | VINODHINI.S | | TECH MAHINDRA |
| 79 | ARCHANA SAM RATHI.S | | TECH MAHINDRA |
| 80 | MOHANA PREETHI R. | | TECH MAHINDRA |
| 81 | KANCHANA.C | | L&T INFOTECH |
| 82 | PRITHI.R | | L&T INFOTECH |
| 83 | RAJESH.M | | L&T INFOTECH |
| 84 | VISHNUPRIYA.R | | L&T INFOTECH |
| 85 | PREETHIKA.S | | L&T INFOTECH |
| 86 | M.REVATHY | | L&T INFOTECH |
| 87 | PRASANTHI S. | | L&T INFOTECH |
| 88 | SHANMUGAM M. | | L&T INFOTECH |
| 89 | NANDHINI R. | | L&T INFOTECH |
| 90 | SUGUNYA G. | | L&T INFOTECH |
| 91 | KEERTHANA | | SUTHERLAND |
| 92 | SHREEYANUS | | SUTHERLAND |
| 93 | NIVETHA C | | TCS |
| 94 | NIVETHA S | | TCS |
| 95 | RAGHAVI P | | TCS |
| 96 | VIJAYARAJ J | | TCS |
| 97 | GEETHANJALI.R | | AAGNA CORPORATE SOLUTIONS |
| 98 | NIVEDA MARY.J | | AAGNA CORPORATE SOLUTIONS |
| 99 | BHARGAVI.R | | AAGNA CORPORATE SOLUTIONS |
| 100 | PADMA PRIYA.R | | SUTHERLAND |
| 101 | SHOBIKA.A | | SUTHERLAND |
| 102 | JANANI.R | | SUTHERLAND |
| 103 | VINOTHINI.N | | SUTHERLAND |
| 104 | PAVITHRA.M | | SUTHERLAND |
| 105 | PAVITHRA.G | | SUTHERLAND |
| 106 | GOVENDHAN.J | | SUTHERLAND |
| 107 | VIJAYPRABHAKAR.S | | SUTHERLAND |
| 108 | ANJALI.I | | AAGNA CORPORATE SOLUTIONS |
| 109 | BHAVANI.R | | AAGNA CORPORATE SOLUTIONS |
| 110 | DHIVYA.G | | AAGNA CORPORATE SOLUTIONS |
| 111 | PADMAPRIYA.R | | AAGNA CORPORATE SOLUTIONS |
| 112 | SATHIYABAMA.B | | AAGNA CORPORATE SOLUTIONS |
| 113 | SHOBIKA.A | | AAGNA CORPORATE SOLUTIONS |
| 114 | BARATH KUMAR.R | | AAGNA CORPORATE SOLUTIONS |
| 115 | DILSHAT BEGUM.S | | AAGNA CORPORATE SOLUTIONS |
| 116 | MUTHURAMAR.M | | AAGNA CORPORATE SOLUTIONS |
| 117 | SHOBANA.S | | AAGNA CORPORATE SOLUTIONS |
| 118 | JOHNSON JEYARAJ.N | | AAGNA CORPORATE SOLUTIONS |
| 119 | VINOTHINI.N | | AAGNA CORPORATE SOLUTIONS |
| 120 | KEERTHIKA.P | | AAGNA CORPORATE SOLUTIONS |
| 121 | LISHANTHINI.S | | AAGNA CORPORATE SOLUTIONS |
| 122 | NIVETHA. R | | AAGNA CORPORATE SOLUTIONS |
| 123 | MOHAN.G | | AAGNA CORPORATE SOLUTIONS |
| 124 | SIVABALAN. P | | AAGNA CORPORATE SOLUTIONS |
| 125 | ROOBIGA. N | | SUTHERLAND |
| 126 | APARNA.A | | SUTHERLAND |
| 127 | KEERTHIKA. P | | SUTHERLAND |
| 128 | LAVANYA. M | | SUTHERLAND |
Batch : 2011- 2015
| | | | | |
| --- | --- | --- | --- | --- |
| S.NO | REG.NO | NAME | COMPANY | SALARY |
| 1 | 11TH0506 | A. PRIYADARSINI | TCS | RS.3,18,887 |
| 2 | 11TH0529 | SATHISH.D | TCS | RS.3,18,887 |
| 3 | 11TH0550 | B.SWATHI | TCS | RS.3,18,887 |
| 4 | 11TH0528 | M.SARUMATHI | TCS | RS.3,18,887 |
| 5 | 11TH0508 | J.C.PRIYANKA | TCS | RS.3,18,887 |
| 6 | 11TH0474 | MANJULA.I | TCS | RS.3,18,887 |
| 7 | 11TH0482 | S.MOUNIKARAJ | TCS | RS.3,18,887 |
| 8 | 11TH0526 | S.SARANYA | TCS | RS.3,18,887 |
| 9 | 11TH0457 | K. JOTHILAKSHMI | TCS | RS.3,18,887 |
| 10 | 11TH0514 | RAJAVANDHINI.R | TCS | RS.3,18,887 |
| 11 | 11TH0554 | S.THARANI | TCS | RS.3,18,887 |
| 12 | 11TH0531 | SHALINI JHA | TCS | RS.3,18,887 |
| 13 | 11TH0547 | SUGANTHI.J | TCS | RS.3,18,887 |
| 14 | 11TH0541 | SNEGHA DEVI.C | TCS | RS.3,18,887 |
| 15 | 11TH0527 | M.SARASWATHI | TCS | RS.3,18,887 |
| 16 | 11TH0403 | ABIYA.M | TCS | RS.3,18,887 |
| 17 | 11TH0551 | SWATHIPRIYA . K | TCS | RS.3,18,887 |
| 18 | 11TH0439 | S.GAYATHRI | TCS | RS.3,18,887 |
| 19 | 11TH0493 | NIRANNCHANA | TCS | RS.3,18,887 |
| 20 | 11TH0459 | KARTHEES P | TCS | RS.3,18,887 |
| 21 | 11TH0463 | G.KIRUTHIGA | TCS | RS.3,18,887 |
| 22 | 11TH0466 | S.KRISHNAPRIYA | TCS | RS.3,18,887 |
| 23 | 11TH0427 | CARPAGAVINNY A | TCS | RS.3,18,887 |
| 24 | 11TH0553 | THANGAVELLU | TCS | RS.3,18,887 |
| 25 | 11TH0445 | GOWTHAM KUMAR | TCS | RS.3,18,887 |
| 26 | 11TH0549 | S.SUVETHA | TCS | RS.3,18,887 |
| 27 | 11TH0552 | M.THAMIZHSELVAN | TCS | RS.3,18,887 |
| 28 | 11TH0498 | S.PAVITHRA | TCS | RS.3,18,887 |
| 29 | 11TH0558 | VAISHNAVI.A.B. | TCS | RS.3,18,887 |
| 30 | 11TH0462 | KEERTHANA | TCS | RS.3,18,887 |
| 31 | 11TH0517 | RANJITH.J | TCS | RS.3,18,887 |
| 32 | 11TH0422 | BALAKUMAR S | TCS | RS.3,18,887 |
| 33 | 11TH0486 | NANCYAMALA.R | TCS | RS.3,18,887 |
| 34 | 11TH0561 | VANMATHI.A | TCS | RS.3,18,887 |
| 35 | 11TH0560 | VALLI.N | TCS | RS.3,18,887 |
| 36 | 11TH0507 | V.PRIYADHARSHINI | TCS | RS.3,18,887 |
| 37 | 11TH0471 | B.MADU BALA | TCS | RS.3,18,887 |
| 38 | 11TH0491 | NARESH R | TCS | RS.3,18,887 |
| 39 | 11TH0516 | RANJI @ PRIYARANJANI.V | TCS | RS.3,18,887 |
| 40 | 11TH0535 | SHIVAEESHWARY.V | TCS | RS.3,18,887 |
| 41 | 11TH0477 | MATHIYARASI.P | TCS | RS.3,18,887 |
| 42 | 11TH0402 | ABINAYA.R | TCS | RS.3,18,887 |
| 43 | 11TH0563 | VIDHYALAKSHMI.M | TCS | RS.3,18,887 |
| 44 | 11TH0415 | ARUN J | TCS | RS.3,18,887 |
| 45 | 11TH0449 | S.HARISH | TCS | RS.3,18,887 |
| 46 | 11TH0555 | B.THARANI | TCS | RS.3,18,887 |
| 47 | 11TH0416 | ASHISH KUMAR | TCS | RS.3,18,887 |
| 48 | 11TH0433 | D.DHIVYA | TCS | RS.3,18,887 |
| 49 | 11TB0444 | N.MONOLISA | TCS | RS.3,18,887 |
| 50 | 11TH0481 | N.MOHANA KUMARIE | TCS | RS.3,18,887 |
| 51 | 11TH0490 | S.NARAYANAN | TCS | RS.3,18,887 |
| 52 | 11TH0569 | V.VIJAI | TCS | RS.3,18,887 |
| 53 | 11TH0414 | A.ARULSELVI | TCS | RS.3,18,887 |
| 54 | 11TH0532 | SHANMATHI.C | L&T | RS.300004 |
| 55 | 11TH0413 | ARTHI. J | L&T | RS.300004 |
| 56 | 11TH0505 | PRIYADARSINI MAGNIFIQUE | L&T | RS.300004 |
| 57 | 11TH0421 | BALACHANDER. C | L&T | RS.300004 |
| 58 | 11TH0425 | J.BETTY SAGAYA SHANTHY | L&T | RS.300004 |
| 59 | 11TH0497 | M.PAVITHRA | L&T | RS.300004 |
| 60 | 11TH0484 | R.MRIDULA | L&T | RS.300004 |
| 61 | 11TH0559 | VALARMATHI | L&T | RS.300004 |
| 62 | 11TH0502 | PRAVINPATHI.V | L&T | RS.300004 |
| 63 | 11TH0417 | ASHWIN VIGNESH.S | L&T | RS.300004 |
| 64 | 11TH0453 | M.ISHWARIAM | L&T | RS.300004 |
| 65 | 11TH0519 | A.SABINA BEGAM | L&T | RS.300004 |
| 66 | 11TH0501 | PRATHIBHA A | L&T | RS.300004 |
| 67 | 11TH0408 | ANTOINETTE P | L&T | RS.300004 |
| 68 | 11TH0545 | V.SRIRAM | L&T | RS.300004 |
| 69 | 11TH0411 | ARCHANA .V | L&T | RS.300004 |
| 70 | 11TH0450 | HEMANANDHINI.P | L&T | RS.300004 |
| 71 | 11TH0539 | SIVRANJANYRAMESH.S | L&T | RS.300004 |
| 72 | 11TH0419 | ASWINI.R | L&T | RS.300004 |
| 73 | 11TH0437 | GAYATHRI.R | L&T | RS.300004 |
| 74 | 11TH0536 | SITHARTH,S | L&T | RS.300004 |
| 75 | 11TH0441 | G.GILES | L&T | RS.300004 |
| 76 | 11TH0489 | S.NANTHINI | L&T | RS.300004 |
| 77 | 11TH0522 | S.SANGAVI | L&T | RS.300004 |
| 78 | 11TH0412 | A.ARTHI | L&T | RS.300004 |
| 79 | 11TH0505 | PRIYADARSINI MAGNIFIQUE | ZOHO CORP | RS.4,60,000 |
| 80 | 11TH0494 | NIVEDHA.J | CTS | RS. 3,15,000 |
| 81 | 11TH0537 | A.SIVAKALAVANY | CTS | RS. 3,15,001 |
| 82 | 11TH0472 | MAHALAKSHMI.S | CONGRUENT | RS.1,60,000 |
| 83 | 11TH0544 | SRINITHI SUGEERTHI.M | WIPRO | RS.3,35,000 |
| 84 | 11TH0496 | PARANIDHARAN S | NTT DATA | RS.300000 |
| 85 | 11TH0574 | VIVEK LAKSHMAN | NTT DATA | RS.300000 |
| 86 | 11TH0443 | GOMATHY.S | SUTHERLAND | RS.2,00,000 |
| 87 | 11TH0570 | P.VIJAYALAKSHMI | SUTHERLAND | RS.2,00,000 |
| 88 | 11TH0436 | DIVYA.P | SUTHERLAND | RS.2,00,000 |
| 89 | 11TH0464 | J.KOKILA | SUTHERLAND | RS.2,00,000 |
| 90 | 11TH0521 | M.A.SALMAN KURSHID | SUTHERLAND | RS.2,00,000 |
| 91 | 11TH0543 | S.SRIDEVI | SUTHERLAND | RS.2,00,000 |
| 92 | 11TH0487 | NANDHINI.G | SUTHERLAND | RS.2,00,000 |
| 93 | 11TH0496 | PARANIDHARAN S | SUTHERLAND | RS.2,00,000 |
| 94 | 11TH0544 | SRINITHI SUGEERTHI.M | SUTHERLAND | RS.2,00,000 |
| 95 | 11TH0444 | GOWRI SHANKAR | SUTHERLAND | RS.2,00,000 |
| 96 | 11TH0448 | HARIPRASATH.T | PHOENIX | RS.2,00,000 |
| 97 | 11TH0548 | S.SURENDHAR | PHOENIX | RS.2,00,000 |
| 98 | 11TH0401 | K.ABDUL JAFFER | PHOENIX | RS.2,00,000 |
| 99 | 11TH0512 | R.RAGHUNATH | PHOENIX | RS.2,00,000 |
| 100 | 11TH0432 | DHINESH.R | PHOENIX | RS.2,00,000 |
| 101 | 11TH0515 | RAM COUMARE.M | PHOENIX | RS.2,00,000 |
| 102 | 11TH0475 | MARTIN MATHEW | PHOENIX | RS.2,00,000 |
| 103 | 11TH0446 | HARIPRASATH.R | PHOENIX | RS.2,00,000 |
| 104 | 11TH0538 | SIVARAMAN.A | PHOENIX | RS.2,00,000 |
| 105 | 11TH0500 | PRABAGARAN.G | PHOENIX | RS.2,00,000 |
| 106 | 11THL015 | GOGULNATH.R | PHOENIX | RS.2,00,000 |
| 107 | 11TD0455 | JANARTHANAN.S | PHOENIX | RS.2,00,000 |
| 108 | 11TH0426 | BHARATHY.J | VEE TECH | RS.2,00,000 |
| 109 | 11TD0455 | JANARTHANAN.S | VEE DART | RS.2,00,000 |
| 110 | 11TH0512 | R.RAGHUNATH | IBM | RS.300004 |
| 111 | 11TH0473 | R.MANJINI | AAGNA Global Solutions | Rs. 1,20,000/- |
| 112 | 11TH7504 | RAVI RAJAN | SUTHERLAND | RS.2,00,000 |
| 113 | 11TH0574 | VIVEK LAKSHMAN | TCS | RS.3,18,887 |
| 114 | 11TH0424 | BALAMURUGAN.K | TCS | RS.3,18,887 |
| 115 | 11TH0452 | INDHUMADHI. K | TCS | RS.3,18,887 |
| 116 | 11TH0525 | SARANYA. A | TCS | RS.3,18,887 |
| 117 | 11THO543 | SRI DEVI.S | TCS | RS.3,18,887 |
M.TECH : NETWORKING
| | | | | |
| --- | --- | --- | --- | --- |
| S.NO | REG.NO | NAME | COMPANY | SALARY |
| 1 | 131318 | ILAMATHI | TCS | RS.3,18,887 |
| 2 | 131276 | SARALADEVI | TCS | RS.3,18,887 |
| 3 | 131262 | BALACHANDAR | TCS | RS.3,18,887 |
| 4 | 131278 | SHAFIYA BEGUM | L&T | RS.3,00,004 |
Placement Company List
| | | | | | | | |
| --- | --- | --- | --- | --- | --- | --- | --- |
| Organization | 2007-2008 | 2008-2009 | 2009-2010 | 2010-2011 | 2011-2012 | 2012-2013 | 2013-2014 |
| TCS | 18 | 14 | 13 | 24 | 38 | 29 | 8 |
| HCL | | 5 | 2 | 6 | 10 | | |
| Patni Computers | | 5 | | 6 | | | |
| Mahandira Satyam | | | | 3 | | | 6 |
| Mbit | | | | 4 | 1 | | 4 |
| Tata Elxsi | | | | 3 | | | |
| MPHASIS | | | | 1 | | | 3 |
| CTS | 5 | | | | | | 5 |
| Accenture | | 3 | 3 | | | | |
| CARITOR | 2 | 1 | | | | | |
| CYBERNET SLASH SUPPORT | | 1 | | 1 | | | 8 |
| HP | | 2 | 1 | | | | |
| Infosys | 3 | 3 | 1 | | | | |
| IFLEX | | 4 | 2 | | | | |
| IGATE | | 1 | 3 | | | | |
| L&T | | 1 | 1 | | | | 10 |
| Wipro | | | | | 3 | | 4 |
| Semicolon Technologies | | | | | | | |
| SYNTEL | 1 | 5 | | | | | |
| SUTHERLAND | 2 | 4 | 7 | 2 | 2 | 11 | 3 |
| Zenith | | | | | | | |
| Gaea | | | | | | 1 | |
| Sky Pro | | | | | | 2 | 2 |
| LSC | | | | | | 6 | |
| FIXNIX | | | | | | 1 | |
| Congruent | | | | | | | 1 |
| Reliance | | | | | | | 8 |
| Ajuba | | | | | | | 5 |
| VTech | | | | | | | 10 |
| SMART | | | 1 | | | 2 | 1 |
| VDART | | | | | | | 8 |
| Total | 31 | 49 | 34 | 50 | 54 | 52 | 86 |
Career Guidance Programs
Soft Skill Training
Verbal, Non Verbal and Reasoning Skills
Communication Skills
Value Added Courses

GRE
GMAT
Tofel
IELTS
IPS
Interview Handling Techniques
Motivation Programs
Guidance Programs for Research Proposals