DEPARTMENT OF ELECTRICAL AND ELECTRONICS ENGINEERING
Students Achievements

Indian Electrical & Electronics Manufacturers Association (IEEMA) Rotating Machines Division conducts "ELROMA", an International Technical Conference on electrical rotating machines in the quadrennial event. This year on 14th & 15th September an International conference on Emerging Trends in Electrical Rotating Machines & Drives (ELROMA) is being organized by IEEMA at Mumbai. In this global assembly eminent persons from various industrial sectors believed to explore their ideas & views on innovations & trends in the field of Rotating Machines and Drives.
Numerous abstracts from various organizations on par of national & international had been cumulated. Out of that 57 shortlisted abstracts, 34 are selected for conference in which the technical experts from various countries like Canada, Germany & Korea contributed 5, Industrial experts from BHEL, ABB, NPCIL etc from all over nation contributed 21 and 8 abstracts belongs to the academic institutes like IIT Madras, IIT Patna, IIT Roorkee and Sri Manakula Vinayagar Engineering College.
The meritorious work on "Noise Reduction in Salient Pole Synchronous Reluctance Motors Using ANSOFT Maxwell" and "Modeling & Electromagnetic Analysis of Reduced Stator Side Linear Induction Motor" done by the team of members K.Sivasubramaniyan, K.Gowtham, K.Vimalraj, V.Praveen & M.Govardhanan under the guidance of Mr.K.Arun Assistant Professor for the first and H.Jagadeesh, P.Anandhageedhan, R.Ajith Kumar, S.Anandh & K.Iyyanar under the guidance Mr.C.Adrien Perianayagam Assistant Professor for the lateral are from the Department of Electrical & Electronics Engineering Pre final year students of Sri Manakula Vinayagar Engineering College, Puducherry. They are the only student team from south Indian private colleges to present papers at this international conference
The maiden team was honored with a memento by the Technical Committee Member Dr.K.K.Puranik Electrical Engineering AISSMS Institute of Information Technology Pune & lateral team was honored by the Technical Committee Member Dr.R.S. Barve Independent Consultant.
Eventually both the teams were felicitated by the college Chairman Shri M.Dhanasekaran, Vice Chairman Shri S.V.Sugumaran, Secretary Dr.K.Narayanaswamy, Director cum Principal Dr.V.S.K Venkatachalapathy, Head of the Department Dr.S.Anbumalar and the faculties belonging to the Department of Electrical and Electronics Engineering.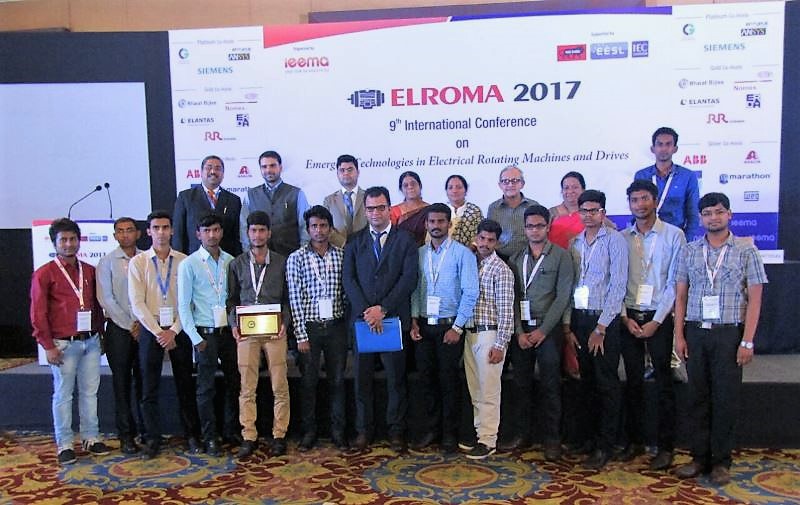 Two Teams from Third Year EEE students from Sri Manakula Vinayagar Engineering College having Memento with Technical Committee Members during the event ELROMA -17.