List of laboratories
Fluid mechanics and Fluid machinery
Material testing and Metallurgy
Manufacturing process
Thermal Engineering
Dynamics of machinery
Mechanical measurements and metrology
CAD and CAM
Basic workshop
Fluid Mechanics And Fluid Machinery Laboratory
This lab has basic fluid mechanics and hydraulic machinery set-up. This lab is equipped with different flow measuring set-ups for fluid mechanics such as venturi meter, orifice meter, notch, weir and different pump set-ups for hydraulic machinery where students can visualize the basic theory of working flow meters and pumps.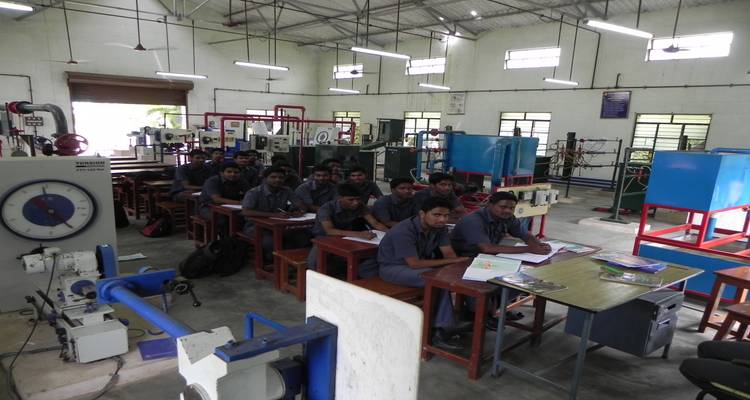 Objectives
To compare the results of analytical models introduced in lecture to the actual behavior of real fluid flows.
To discuss and practice standard measurement techniques of fluid mechanics and their applications.
To work on small design projects.
Read and follow directions for laboratory experiments.
Operate fluid flow equipment and instrumentation.
Collect and analyze data using fluid mechanics principles and experimentation methods.
Prepare reports following accepted writing and graphical techniques.
Perform exercises in small teams.
Demonstrate principles discussed in Fluid Mechanics lecture course.
Demonstrate appropriate work habits consistent with industry standards.
Scope
To learn the basic concepts of fluids properties and rate of flow.
To determine the efficiency of different types of pumps and turbines.
To study different types of impellers used in pumps.
To find out the rate of flow of the fluid and also find out the coefficient of discharge
To find out the frictional resistance of the given set of pipes.
To find the maximum efficiency of the pump as well as turbine with different input and head etc.
Fluid Mechanics
List of experiments/Exercises
Determination of Metacentric height of a buoy
Determination of force due to impact of jets
Determination of co-efficient of discharge of venture meter
Determination of co-efficient of discharge of orifice meter
Determination of co-efficient of discharge of orifice by (a) constant head method and (b) variable head method
Determination of co-efficient of discharge in mouth piece by (a) constant head method and (b) variable head method
Determination of major losses in pipe flow
Determination of minor losses in pipe flow
Measuring discharge using V notch
Measuring discharge using rectangular weir
Fluid Machinery
List of experiments/Exercises
Study and performance test of the following hydraulic machines
Centrifugal Pump
Self-Priming Pump
Reciprocating Pump
Jet – Pump
Submersible Pump
Vertical Turbine Pump
Parallel & Series Pump
Gear Pump
Vacuum Pump
Pelton Wheel Turbine
Francis Turbine
Kaplan Turbine
List of equipments
Pelton Turbine
Francis Turbine
Centrifugal pump
Submersible pump
Reciprocating pump
Venturimeter apparatus
Orifice and mouthpiece apparatus
Orifice meter apparatus
Pipe friction apparatus (major loss )
Losses in pipe line apparatus(minor loss)
Impact of jet apparatus
Closed circuit self-priming pump
Closed circuit jet pump
Closed circuit gear oil pump test rig
Closed circuit deep well vertical turbine pump test rig
Closed circuit / single stage /multi speed/centrifugal/ pump test rig for series (2 stage) and parallel operation
Closed circuit Notch tank apparatus (Combined unit)
Material Testing And Metallurgy Laboratory
The primary focus of the Metallurgical and Materials lab is to provide with a fundamental knowledge-base associated with materials-processing, their properties, and their selection and application. Upon graduation, students would have acquired and developed the necessary background and skills for successful careers in the materials-related industries.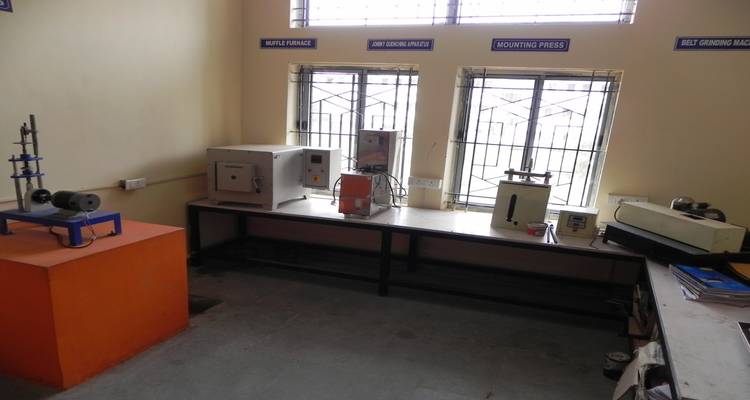 Objectives
The objective of the Material testing and Metallurgy program is to impart a fundamental knowledge of materials, properties, selection and application.
Study, measure and understand the properties of materials required for various applications.
Study and understand the fundamental structure of materials.
Combine a thorough understanding of these areas to perform as a Materials and Metallurgical Engineer for a wide spectrum of industries.
Scope
To make existing material better and invent new phenomena, material device and its applications.
A thorough knowledge of material science and engineering will make the students as a better designer.
Students can discover the ways to control the material properties through microstructure analysis.
Materials Testing Laboratory
List of Experiments/Exercises
Tension test – metals and composites
Compression Test – metals and composites
Hardness test : Rockwell and Brinell
Ductility test : Sheet metals (Al, GI and MS)
Impact Test
Metallurgy Laboratory
List of Experiments/Exercises
Study of microstructure in metals
Specimen preparation & microscopic study of ferrous/nonferrous metals
Effect of heat treatments viz.,Annealing and hardening on ferrous/nonferrous metals
Study of various quenching mediums
Jominy end quenching test
List of Equipments
Universal Testing machine-40T
Mechanical Extensometer
Torsion Testing Machine 100Nm
Brinell Hardness Testing Machine
Rockwell Hardness Testing Machine
Impact Testing Machine
Erichsen Cupping Testing Machine
180 Bend Test Attachment
Bending test on beams
Electronic Spring testing machine( 50 kg capacity)
Closed circuit Notch tank apparatus (Combined unit)
Inverted Trinocular Metallurgical Microscope
Co-axial Trinocular Research Metallurgical Microscope (Model Vision Plus 5000 TM)
Jominy end quench apparatus
Disc polishing machine
Mounting press
Belt girding machine
Manufacturing Processes Laboratory
The Manufacturing Processes (MP) Laboratory is dedicated to support advancement of manufacturing research, manufacturing education that will influence, attract and develop the future manufacturing workforce. This Lab provides students with an opportunity to study and practice manufacturing processes. This laboratory offers students with experiential learning of the nature and technique of manufacturing processes. Students learning knowledge from this lab is integrated with prior and subsequent learning of other engineering topics such as engineering materials and quality planning and control. The Manufacturing Processes Laboratory includes facilities to demonstrate and explore examples of casting, molding, and machining processes. The laboratory includes a variety of instruments for measurement of process variables and product quality variables. CNC lab is equiped with a state of art technology CNC machine. It is a production machine.
Objectives
The overall objective of the lab is to gain a practical understanding of various manufacturing processes in hands-on environment.
Set-up and conduct engineering experiments related to various manufacturing processes.
Maintain lab manual in an engineering format.
Enhance ability to determine the data given and the informations to be find out.
Learn to make engineering judgments.
Extend basic knowledge to solve manufacturing process related problems.
Analyze date from experiments to performe and reach conclusions.
Improve team working skills through group assignments
Scope
To Study the lathe machine, lathe tools cutting speed, feed and depth of cut.
To perform step turning, knurling and chamfering on lathe machine as per drawing.
To study shaper machine, its mechanism and calculate quick return ratio.
To cut multi-start square/metric threads/li>
To Study the milling machine, milling cutters, indexing heads and indexing methods. Prepare a gear on milling machine.
Study the characteristic features of Drilling machine.
To drill and tap holes on a metal plate and investigate the accuracy of tapping holes.
Moulding Sands, constituents and characteristics.
Preparation of mould using solid and split pattern.
Study of single point cutting tool geometry & grind the tool as per given tool geometry.
Study the hobbing machine, hob cutters. Prepare a helical gear on hobbing machine.
Study of cylindrical grinding machine, grinding wheel, cutting speed, feed and depth of cut.
Study of CNC systems. Prepare a programme on CNC machine for any one type of operation on lathe and milling machine.
Manufacturing Process Laboratory-I
List of experiments/Exercises:
Turning
Study of Lathe
Plain turning and facing
Step turning, Grooving and Chamfering
Taper turning by swiveling compound rest method
Taper turning by attachment method
Thread cutting
Shaping
Study of Shaper
Cube shaping
Step shaping
Milling
Study of Milling Machine
Cube Milling
Step Milling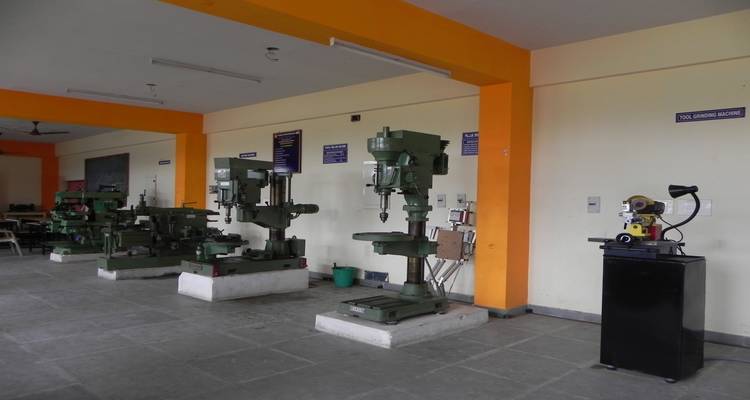 Manufacturing Process Lab-II
List of experiments/Exercises
Drilling and Boring
Turning between centers
Drilling and Tapping
Square and multi start thread cutting
Eccentric turning
Shaping and V-slot grooving
Study of Grinding machine
Cylindrical grinding operation
Spline Milling
Keyway milling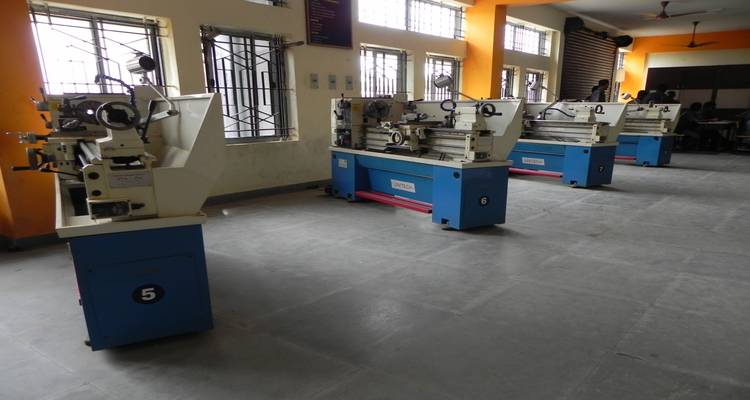 Manufacturing Process Lab-III
List of experiments/Exercises
Study of Foundry tools
Mould preparation using solid- patterns
Mould preparation using split- patterns
Gear Cutting
Helical gear milling
Study of gear hobbing machine
Spur gear hobbing
Tool Grinding
Study of tool and cutter grinder
Grinding of single point cutting tool
CNC Programming
Study of CNC turning and milling machines
Programming and TPG of CNC turning
Programming and TPG of CNC milling
List of Machines
UNITECHall Geared Lathe
Shaping Machine
Rubber Pad
Radial Drilling Machine
Pillar Drilling Machine
Universal Milling Machine
Cylindrical Grinder (Indian Make "Master" Model)
Surface Grinder (Indian Make "Master" Model)
Tool and Cutter Grinder (Indian make "Master" Model)
Gear Hobbing Machine (Indian make "Master" Model)
CNC Lathe Model (HASSUSA TL -2)
CNC Milling Model(HASSUSA TM-1)
With Stabilizer and Air Compressor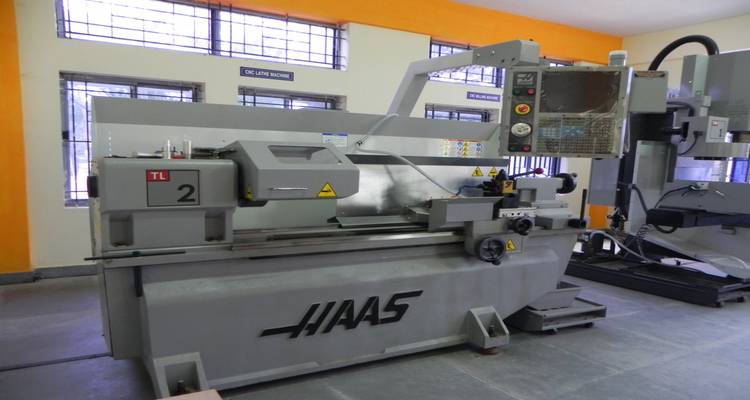 Thermal Engineering Laboratory
Thermal engineering is a branch of science that covers energy conversion from one form to another, working of IC engines, modes of heat transfer, principles of refrigeration and air conditioning etc. The field of thermal engineering includes a lot of applications that can be classified as the combination of thermodynamics and heat transfer, such as IC engines, air conditioning and refrigeration systems.
The objective of this laboratory is to provide the student a good environment to understand the important concepts and applications in the field of IC Engines , refrigeration and heat transfer. These concepts are necessary to understand how the typical thermal devices work (refrigerators, air conditioning devices, engines).
These fundamentals will be used to link the phenomenological processes taking place in the engine for issues of: power generation, emissions and environmental impact, fuel economy and fuel composition effects on engine operation and mechanical limitations of obtaining ideal performance.
Thermal Engineering Laboratory – I
List of experiments/Exercises
Determination of Kinematic Viscosity using Redwood viscometer
Determination of Flash and Fire Points using Cleaveland Apparatus.
Determination of Calorific value of Solid Fuel using Bomb Calorimeter
Determination of Calorific value of Gaseous Fuel using Junker's Gas Calorimeter
Performance test on Reciprocating Air Compressor
Performance test on Centrifugal Air Blower
Study on the composition of Exhaust gas of an IC engine using OrsatAppratus under various loads.
Determination of Thermal Resistance and Conductivity of a Composite Wall
Heat Transfer from Cylindrical Surface by Natural Convection
Heat Transfer from Cylindrical Surface by Forced Convection
Heat Transfer from Pin Fin by Forced Convection
Performance of Parallel Flow/Counter Flow Heat Exchanger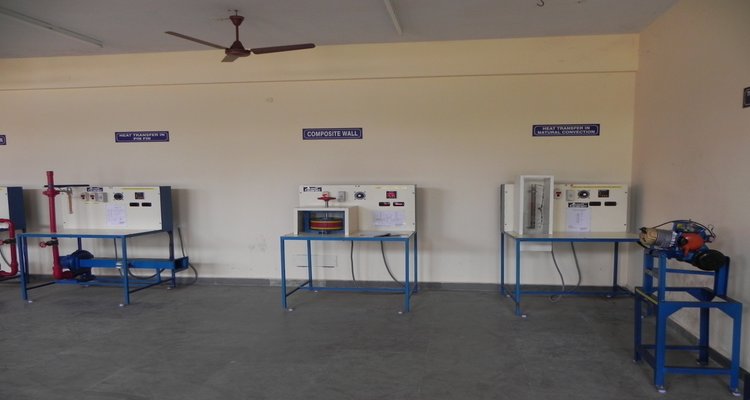 Thermal Engineering Laboratory – II
List of experiments/Exercises
Valve and port timing diagrams of 4 stroke and 2 stroke IC engines respectively
Tests on single cylinder pertrol engine

Load test
finding air-fuel ratio

Tests on multi-cylinder petrol engine

Load test
Morse test
heat balance test

Tests on single cylinder 4 stroke diesel engine

Load test
Finding air-fuel ratio
Retardation test

Test on multi-cylinder diesel engine

Load test
Heat balance test

Engine exhausts gas analysis using Gas analyzer/ Gas Chromatograph
Performance test on cooling tower.
Performance test on refrigeration system
Performance test on air-conditioning system.
Performance test on a boiler.
Performance test on steam turbine.
Determination of dryness fraction of steam using calorimeter
List of Equipments
2 Stage 2 cylinder air compressor test rig (swinging field type)
Variable speed air blower test rig
Air conditioning test rig
Refrigeration test rig
Cooling tower
Redwood Viscometer
Cleave land Apparatus
Bomb Calorimeter
Junker's Gas Calorimeter
Composite Wall
Natural Convection
Forced Convection
Pin Fin by Forced Convection
Parallel Flow and Counter Heat Exchanger
ORSAT Apparatus
Valve Timing Diagram for 4 Stroke Diesel Engine
Port Timing Diagram for 2 Stroke Petrol Engine
Single Cylinder Four-Stroke Petrol Engine with Electrical Loading Dynamometer
Four Stroke Single Cylinder Diesel Engine 5 Hp KIRLOSKAR with Mechanical Break Test Rig
Four Stroke Twin Cylinder Diesel Engine with Electrical Loading Water Rheostat Test Rig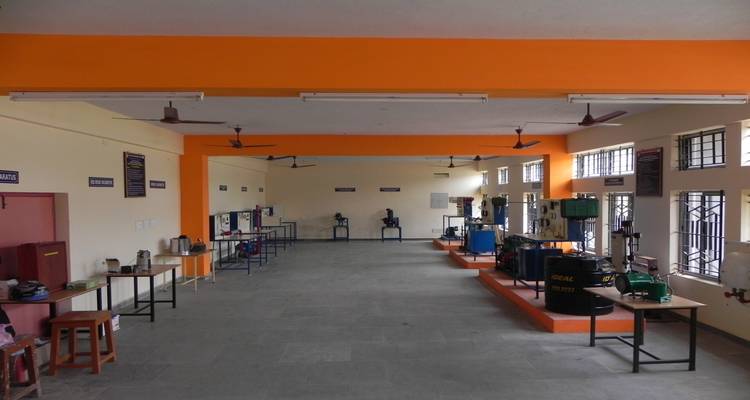 Dynamics Of Machinery Laboratory
Dynamics of Machinery lab imparts practical knowledge on design and analysis of mechanisms for the specified type of motion in a machine. With the study of rigid motion bodies and forces for the transmission systems, machine kinematics and dynamics can be well understood.
Demonstration exercises are provided with wide varieties of transmission element models to understand machine kinematics. Various experiments with governors, gyroscopes, balancing machines and universal vibration facilities are available to understand machine dynamics.
Objectives
Measure forces due to dynamic imbalance of a rotating shaft.
Analyze and compute link forces in moving linkage mechanisms.
3 Design a flywheel for a machine.
Analyze shaking forces in single and multi-cylinder engines.
Understand the influence of shaking forces on engine design.
Scope
To study inversion of four bar chain.
To determine moment of inertia of the given object using connecting rod.
Measure forces due to dynamic imbalance of a rotating shaft.
To determine the various types of vibration effect on the shaft.
To determine damping co-efficient of given systems.
To determine moment of inertia of the given object using Trifler suspension.
List of Experiments /Exercises
Demonstration of four bar inversion mechanism
Natural frequency of single mass, single helical spring system.
Natural frequency of combination of springs – springs in parallel, springs in series
Natural frequency of undamped torsional single rotor, double rotor system. Effect of inertia (I) and stiffness (kt).
Determination of radius of gyration of a given compound pendulum
Determination of radius of gyration, moment of inertia – bifilar suspension method – trifilar suspension method
Damping coefficient of torsional single rotor system – Effect on depth of immersion in oil and damping ratio
Resonance frequency of equivalent spring mass system – undamped and damped condition. To plot amplitude Vs frequency graph for different damping.
Determination of characteristic curves of Watt, Porter, Proell and spring loaded governors.
Static and Dynamic balancing.
Whirling of shafts/ determination of critical speed with and without Rotors.
Gyroscopic couple verification.
Journal bearing – pressure distribution of different loads at different Speeds.
Cam motion analysis.
Generation of involute gear profile.
Tracing of coupler curves.
Determination of error in straight line drawn by watt chain mechanism.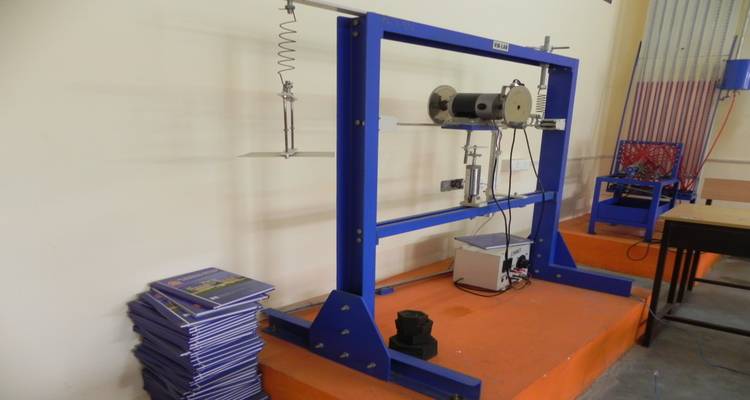 List of Equipments
2 Stage 2 cylinder air compressor test rig (swinging field type)
VibrationSetup
Universal Governor Apparatus
Static & Dynamic Balancing Apparatus
Whirling of Shaft Apparatus
Journal Bearing Apparatus
Cam Analysis Apparatus
Motorized Gyroscope
Generation of Involute Gear Tooth Profile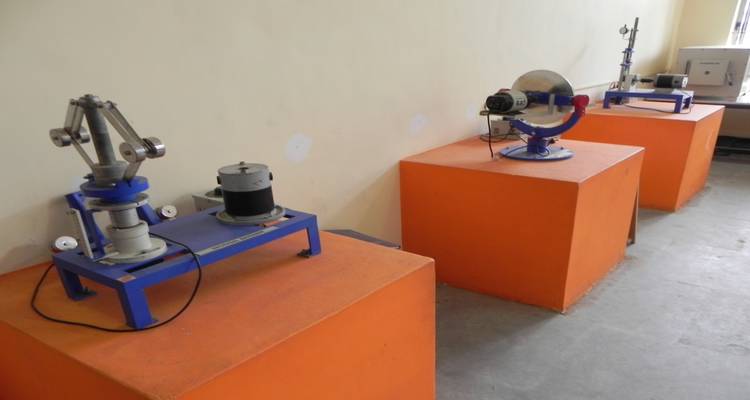 Mechanical Measurements And Metrology Laboratory
This is the laboratory where the student learns to use and calibrate measuring instruments and equipments. Main equipments in which students gain hands on experience are transducers, profile projector, sine bar, floating carriage micrometer, temperature measurement setup, force measurement setup and torque measurement setup.
Objectives
Understand the principle of operation and calibration of an instrument.
Know different measuring device for a particular application.
Understanding the concepts of limits, fits and tolerance.
Understand various testing tools for checking the alignment of machine tools.
5 Understand the various transducers and application of strain gauges.
Understand the different devices used to measure force, torque, and pressure
Understand the different devices used to measure Speed, Flow, and Temperature
Scope
The course is intended to provide students with general knowledge about mechanical measurements and metrology laboratory techniques for industrial applications and diagnostics.
Ability to identify the different types of simple linear measurement instruments, design, sensitivity and use as a practical application of what they have studied in the lecture. Practice measuring some products dimensions using these instruments.
This lab provides the students an active learning environment for the measurement technologies used in production engineering field.
Students use the laboratory to collect and analyze measurement data, evaluate measurement methodologies, and learn the pros and cons of measurement technologies
List of Experiments /Exercises
Calibration of Micrometer.
Measurement of taper using Sine Bar.
Calibration of Plain Plug Gauge.
Straightness and Flatness Measurement using Autocollimator.
Surface Roughness Measurement (Talysurf method)
Inspection of Screw Threads (Effective Diameter).
Calibration of Inclined Tube Manometer.
Measurement of Pressure using Strain Gauges.
Determination of the Time Constant of Thermocouples.
Measurement of Force using Transducers.
Measurement of Strain using Strain Gauges.
Study of Displacement using LVDT and RVDT.
Vibration Measurement using Accelerometer.
Measurement of speed using stroboscope
Inspection of gear tooth profile using profile projectors
Tool Maker Microscope (inspection of screws)
Inspection of internal and external surfaces (C M M)
List of Equipments
Micrometers
Sine bar
Different plug gauges
Autocollimator
Setup to measure surface roughness
Setup and accessories to inspect screw threads using effective diameter method
Profile projector to inspect gear tooth.
Tool Maker microscope
CMM
Setup to calibrate inclined tube manometer
Experimental setup for measuring force using transducers
Setup to measure pressure using strain gauges
Determination of time constant of thermocouple temperature measuring system
Stroboscope set up to measure speed
Setup to measure strain using strain gauges
LVDT for displacement measurement
Setup to measure vibration using accelerometer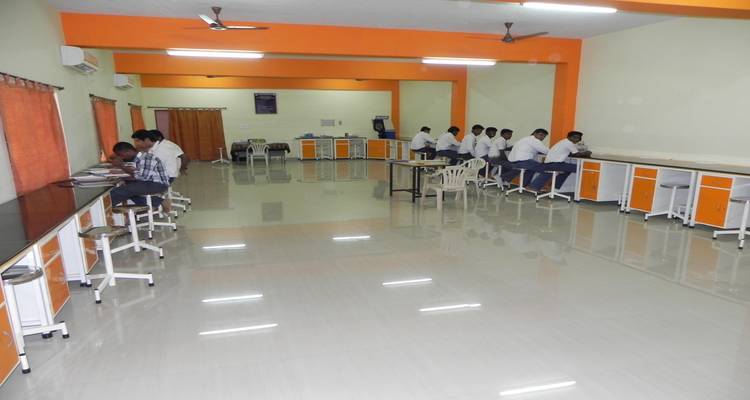 CAD / Camlaboratory
CAD/CAM Lab was established for concept design and product realization. This lab is to primarily facilitate students to evolve concepts and convert it into a complete product. The process of design, simulation and prototyping takes place in a digitally integrated environment. The facility has been designed and structured to take care of professional certification programs for students, consultancy for industries and to also carry out globally outstanding research.
Objectives
To revise the fundamentals of stress analysis and vibration analysis.
To lay a strong foundation for design analysis.
To be able to understand and handle design problems in a systematic manner
To gain practical experience in handling 2D drafting and 3D modeling software systems.
To be able to apply CAD in real life applications
To understand the concepts G and M code and manual part programming.
To expose students to modern control systems (Fanuc, Siemens etc…)
To know the applications of various CNC machines.
To expose the students to modern CNC application machines EDM, EDM wire cut and rapid prototyping
Scope
Analysis of Stress: State of stress at a point, stress components on an arbitrary plane, principal stresses, Mohr's circle, plane stress, differential equations of equilibrium, boundary conditions.
Analysis of Strain: State of strain at a point, dilation, plane strain, compatibility conditions
Stress-Strain Relations: Generalizes Hooke's Law, relations between elastic constants, displacement equations of equilibrium.
Theories of Failure: Theory of dislocations, Maximum principal stress theory, maximum shear stress theory, maximum elastic strain theory, octahedral shearing stress theory, distortion energy theory, Mohr's theory, significance of theory of failure, use of factor of safety in design, selection of materials for engineering applications.
Energy Methods: Elastic strain energy, Maxwell-Betti-Rayleigh reciprocal theorem, Castigliano's theorems, strain energy due to axial force, shear force, torsion, bending moment, theory of virtual work.
Axisymmetric Problems: Thick-walled cylinders, shrink fits, rotating discs.
Dynamic Analysis: Review of mechanical vibrations; Properties of eigen-values and eigenvectors, problem formulation for longitudinal, torsional and lateral vibrations.
Computer Aided Machine Drawing
Preparation of Drawings for Parts and Assembly of the following by using AutoCAD
Joints : Riveted Joints – Butt & Lap joints, Knuckle joint,
Couplings : flexible type flange coupling, Universal coupling.
Bearing : Pedestal bearing.
Screw jack
Connecting rod
Tail stock
Steam Stop valve
Ramsbottom Safety Valve
Computer aided design of machine components:
Transmission shafts,
Journal bearings,
Flange couplings etc.
Using solvers namely TK SOLVER (Ref: "Machine Design: An integrated approach", Norton, R. L. 2nd Ed., Pearson Education Asia, 2001, appendix F, p.no:1001.) And
Autolisp[Minimum of three exercises using TK SOLVER and two exercises using Autolisp.]
PART-B
Generation of Auto lisp file to draw the orthographic views of a given isometric diagram.
3D Modeling

Introduction to 3-D modeling – sketcher, part design, assembly and drafting workbenches
Generation of various 3D Models through Protrusion, revolve, shell sweep. Creation of various features. Study of parent child relationships. Feature based and Boolean based modeling surfaces.
Assembly modelling of components having a minimum of six machine elements. [Minimum of two exercises in part modelling and one exercise in assembly] (Use of ANY ONE of these packages such as CATIA, ProE, SOLIDWORKS, IDEAS is recommended)

FE Analysis:Using any FEA software packages like ANSYS / NISA etc., solve for

Plane Stress Analysis on Plate with Central hole
SF and BMD diagrams for all kinds of beams
1-D heat transfer analysis of a simple plate. [Minimum of three exercises]
HP Nodes
HP DX2480 Desktop
Intel Core 2 Duo Processor(2.80 GHz, 1066 MHz FSB)
Intel Chipset Board
1 GB DDR2 RAM
160 GB SATA HDD
HP USB Keyboard
HP Optical USB Scroll Mouse
HP Optical USB Scroll Mouse
HP 18.5″ Wide TFT Monitor
HP Server
HP Proliant ML 350 G6
Intel Xeon Processor 2.00 Ghz
Intel Chipset Board
2 GB DDR2 RAM
HP 500 GB HDD RAID (250X2)
DVD ROM DRIVE
HP P Keyboard
HP Mouse
HP 18.5 TFT Monitor
HP Nodes
HP DX2480 Desktop
Intel Core 2 Duo Processor
(2.80 GHz, 1066 MHz FSB)
Intel Chipset Board
1 GB DDR2 RAM
160 GB SATA HDD
HP USB Keyboard
HP Optical USB Scroll Mouse
HP 18.5″Wide TFT Monitor
CAD/CAM Software packages
Pro/Engineer 4.0 Edition Perpetual license – User with one year maintenance
Application on TK solver & Machine Design
Edge cam & NC Part Programming
ANSYS License Software
Autocad License Software
UPS BATTERIES – TRUE POWER MAKE 20.0 KVA/360 VCD IGBT(12V/40Ah*30 Nos)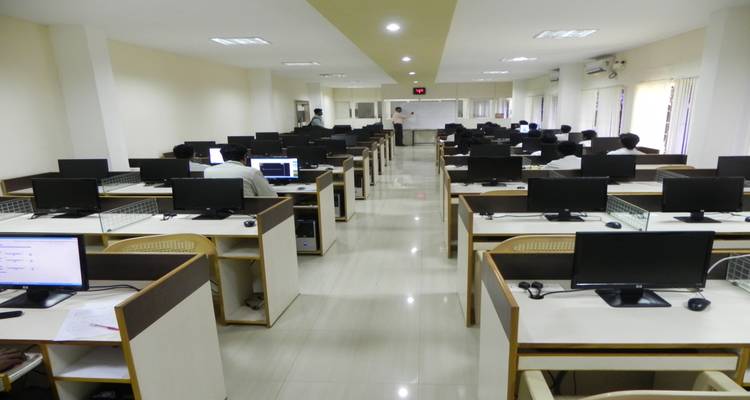 Basic Workshop
Explanation on various engineering tools and equipment, and their use in different fields of engineering is carried out in Basic Workshop lab. The practice helps the students gain fundamental and practical knowledge in the following areas of engineering practices:
Fitting
Arc and gas welding,
Sheet metalwork
Carpentry
List of Exercises
Fitting
Study of tools and Machineries
Symmetric fitting
Acute angle fitting
Welding
Study of arc and gas welding equipment and tools
Simple lap welding (Arc)
Single V butt welding (Arc)
Sheet metal work
Study of tools and machineries
Funnel
Waste collection tray
Carpentry
Study of tools and machineries
Half lap joint
Corner mortise joint.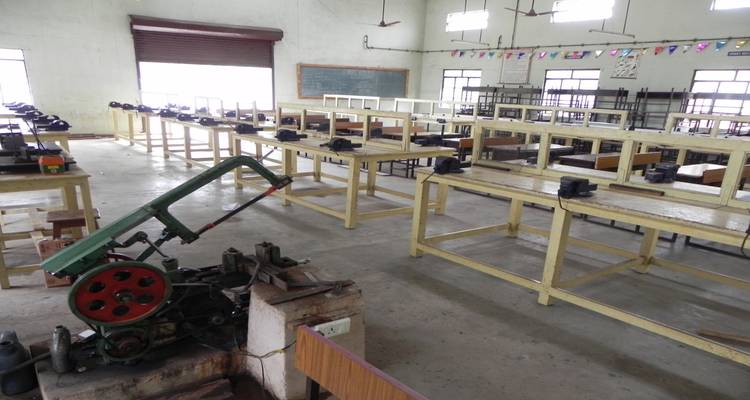 Department Library
The department of Mechanical Engineering comprises a collection of 'CD',text books, reference books, NTPL Course materials, E-Books, E-Journals and Journals to meet the needs of faculty members and Students. The details of our department library is given below.
| | |
| --- | --- |
| Number of Titles | 150 |
| Number of Volumes | 400 |
| Number of National and International Journals / Magazines subscribed | 6 |
| No. of news papers subscribed | 3 |
| Laboratory manuals | 12 |
Advanced Manufacturing Laboratory
This laboratory is dedicated to support advancement of manufacturing research, manufacturing education that will influence, attract and develop the future manufacturing workforce. Today manufacturing is at a crucial crossroads. Changes in the way the world does business, global competition and our escalating technological capabilities are placing unprecedented demands on manufacturing. Unfortunately, as the worldwide demand for the manufacture of innovative high quality products and processes expands, there is a parallel decrease in an interested and prepared workforce in India that can be found in this rapidly changing environment.
Objective
The focus of the lab is on both process as well as system level manufacturing solutions.
The current research activities include manufacturing process and system simulation, process planning, production planning, manufacturability analysis, and nanomaterial processing.
At this lab we strive to continually acquire and intelligently apply resources to support the interest, advancement of manufacturing education.
The lab also supports the educational needs of evolving technology in traditional manufacturing disciplines.
Scope
Study of CNC systems. Prepare a programme on CNC machine for any one type of operation on lathe and milling machine
Study of single point cutting tool geometry & grind the tool as per given tool geometry.
Study the hobbing machine, hob cutters. Prepare a helical gear on hobbing machine.
Study of cylindrical grinding machine, grinding wheel, cutting speed, feed and depth of cut.
Composite Laboratory
The goals of the laboratory are to promote the understanding and the use of composite materials, to maintain up-to-date manufacturing and testing facilities to conduct basic research, and to provide an accessible knowledge and technology base. The manufacture of composite components and specimens can be done in either an autoclave or a vacuum hot press. A layup facility allows the fabrication of flat laminates with arbitrary stacking sequences. This facility includes the necessary templates to accurately cut preimpregnated tape, and two four-section cure assemblies with caul plates and aluminum dams.
Objectives
Conduct basic research on the behavior of materials, structures and mechanical systems to develop fundamental understanding of the underlying processes and mechanisms.
Develop low-cost processing techniques for advanced materials.
Develop solutions to engineering problems through the use of advanced materials and creative design.
Scope
Armed with a wide gamut of advantages, composites have a key role to play in the growing market in India.
Composites have made an entry into diverse end-use segments and the developmental efforts for finding newer composites for existing & novel applications is an area of top priority.
Size and cost of electronic components are expected to decrease by higher magnitude during this decade.
Composite Laboratory
3D Printing is a name associated with a form of manufacturing called additive manufacturing. Unlike traditional manufacturing methods, 3D printers don't cut away, bend, or deform a raw stock of material into the desired shape. Instead they build up objects by selectively applying material in layers. This is done without the need for jigs, fixtures, dies, or molds. The additive process of 3D printing allows for the "free" fabrication of complex geometry.
Objectives
The 3D printer aims to facilitate learning by developing a technological advantage in various subject matter.
The goal of the 3D printer is to create a visual model to enhance the learning experience of the content being delivered.
Students will be able to manipulate the printer to create a product servicing multiple interdisciplinary objectives.
Scope
It is predicted by some additive manufacturing advocates that this technological development will change the nature of commerce, because end users will be able to do much of their own manufacturing rather than engaging in trade to buy products from other people and corporations.
3D printers capable of outputting in colour and multiple materials already exist and will continue to improve to a point where functional (electronic) products will be able to be output.
With effects on energy use, waste reduction, customization, product availability, medicine, art, construction and sciences, 3D printing will change the manufacturing world