Newspaper Content
CAPACIT 2019
Indian Electrical & Electronics Manufacturers Association (IEEMA) Division conducts "CAPACIT", an International Technical Conference on capacitors – Reactive Power and beyond in the quadrennial event. This year on 14th & 15th February 9th International conference on CAPACIT 19 is being organized by IEEMA at New Delhi. In this global assembly eminent persons from various industrial sectors explored their ideas & views on innovations & trends in the field of Capacitors. Numerous abstracts from various organizations on par of national & international had been cumulated out of which 24 are selected for international conference. Technical experts from countries like Germany, Sweden & Switzerland contributed 2, Industrial experts from SCHNEIDER, ABB, TDK, CPRI etc from all over nation contributed 20 and 2 abstracts belongs to the academic institute, Sri Manakula Vinayagar Engineering College, Madagadipet, Puducherry has once again achieved its milestone that they are the only academic institute to present their technical note on capacitors in this event along with Industrial giants.
The meritorious work on "Intensify method for characterization of ultra capacitors by uniform current charging" and "Performance analysis on grapheme based composite structure for electrodes in ultra capacitor" done by the team of members S.Vengadesh, M.Hariharan & K.Selvakumaran under the guidance of Mr.K.Arun Assistant Professor for the first and R.Dhanushvarma & S.Shylesh under the guidance Mr.C.Adrien Perianayagam Assistant Professor for the lateral are from the Department of Electrical & Electronics Engineering Pre final year & second year students of Sri Manakula Vinayagar Engineering College, Puducherry. The maiden team was honored with a memento by the Technical Committee Chairman Dr.R.Venkatesh of TDK electronics AG in Germany and session chairman of Dr.R.L.Sharma managing director , CTO in SPEL supercapacitor. Various eminent persons from various industries and government sectors like Birla group of companies, CPRI etc had a technical discussion and congratulated the students for their ideas personally. Also Dr.C.Vijayakumar CEO of MAGNEWIN ENERGY appreciated Sri Manakula Vinayagar Engineering College for their constant participation of their students in the research oriented events conducted by IEEMA.
Eventually both the teams were felicitated by the college Chairman Shri M.Dhanasekaran, Vice Chairman Shri S.V.Sugumaran, Secretary Dr.K.Narayanaswamy, Director cum Principal Dr.V.S.K Venkatachalapathy, Head of the Department Dr.S.Anbumalar and the faculties belonging to the Department of Electrical and Electronics Engineering .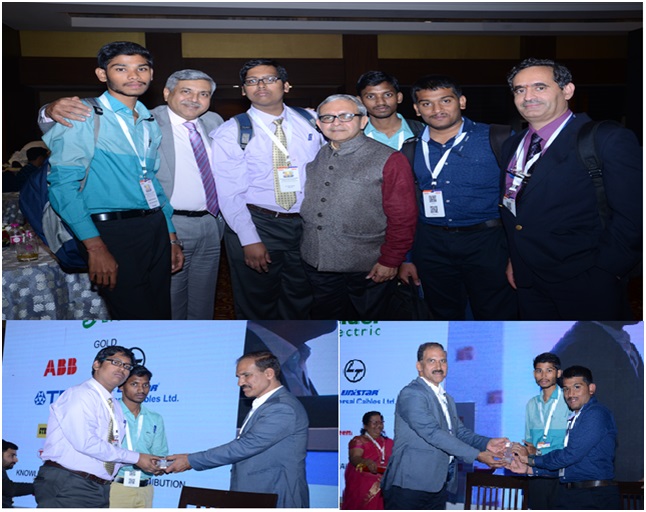 Two Teams from Third Year and second year EEE students from Sri Manakula Vinayagar Engineering College receiving Memento from Technical Committee Members during the event CAPACIT-2019.