UNISYS 20/20 2017:
The Engineering students across the country with a platform to offer innovative ideas around disruptive technology trends. It is open to research students, post-graduates as well as pre-final and final year engineering students in Computer Science, Information Technology, and other related fields. Students can submit project ideas in broad technical areas as per the contest guidelines. These ideas will be evaluated by the Unisys Technical team, and based on the innovation/merit of the idea, selected for the next round, where students will work on their project idea and demonstrate it. In our department 12 teams are participated in 2 teams are shortlisted for Final Round(Technical Presentation). In that the IV year students won the Third prize of Rs. 1,00,000/-.
The shortlisted teams of CSE Department are as follows:
Sl.No.
Name of the Team Members
Year
Title
Guide Name
1.
1.J. Shyam Suganth
2.S.Thamarai Selvan
3.S. Hariharsudan
4.M. Subash
IV & III
ENVIRINSTA
Dr. J. Madhusudanan
2.
1.T. Sendilbalan
2.K. Vinoth
3.N. Sozhan
4.S. Ramalingam
III
ARQUIDEFICEO
Mr. V. Vijayakumar

Testimony 2017:
More than 1,08,000 students from over 1000 universities and colleges across India competed in the fifth edition of TCS Quality Engineering Contest, TESTimony. 15 finalists contested for the top three spots at the TESTimony 2017 grand finale held on July 26 & 27, 2017 at TCS Siruseri. The first place was won by Gautham A from Sri. Manakula Vinayagar Engineering College, Puducherry.
The finalists had to crack a case study and showcase their prowess in Selenium, JMeter and Appium testing tools. The finalists presented their solutions drawn from TCS Quality Engineering Centers of Excellence (CoEs) and labs to the panelists.
The winners were awarded cash prizes worth INR 2,50,000 along with provisional job offers to begin their exciting careers in Quality Engineering at TCS. Job offers will be in the areas of Quality Engineering for Artificial Intelligence, Internet of Things, Robotics, Augmented Reality & Virtual Reality amongst others.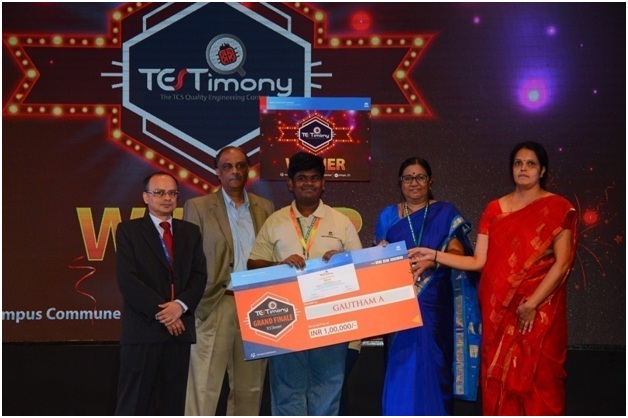 TCS Innovate 2017:
TCS Kurukshetra is an international techno-management fest conducted annually by the College of Engineering, Guindy, in Chennai, It is an event organized by the college's technical body, the CEG Tech Forum (CTF). This was first held in 2007 and is the first techno-management festival in India to be awarded UNESCO patronage. TCS along with CEG Tech Forum (College of Engineering Guindy, Chennai) join hands to create a mind share among students from leading technical institutes across India. To achieve the same, we are hosting a Digital Contest – TCS Innovate'17 in Campus Commune.
Kurukshetra through TCS Innovate enables TCS to: i) Identify the bright students ii) Provide students an opportunity to develop digital solutions iii)Create an interactive environment and enhance Exposure to the latest digital trends